Oversized Doors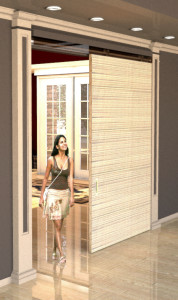 Oversize doors, Barn doors, Ballroom doors or panels can be manufactured from just about all of our product types with the exception being fire rated doors. Fire rated doors can not receive a label if the specified sizes for their respective application are exceeded. Doors considered to be oversize in most cases would be anything over 4' wide and/or 10' tall. Oversize doors can be produced with a wide selection of face options for both for transparent and opaque finishes and can be machined for hardware to meet most any applications. Typically these doors would be used as sliders for large openings that can be easily opened and closed off with minimal effort. Oversize doors are not warranted against warp, twist, cup or bow.
Thicknesses: 1-3/8″ to 2-1/4″
Species: Identical to regular door offerings
Core Types: PC, SLC, SCLC & Agrifiber
Fire Ratings: None
Due to freight restrictions on sizes it may be necessary to provide two large halves and have them splined at the jobsite. Please check with our sales staff to confirm if this method applies.
Click here to download PDF version.